Rekry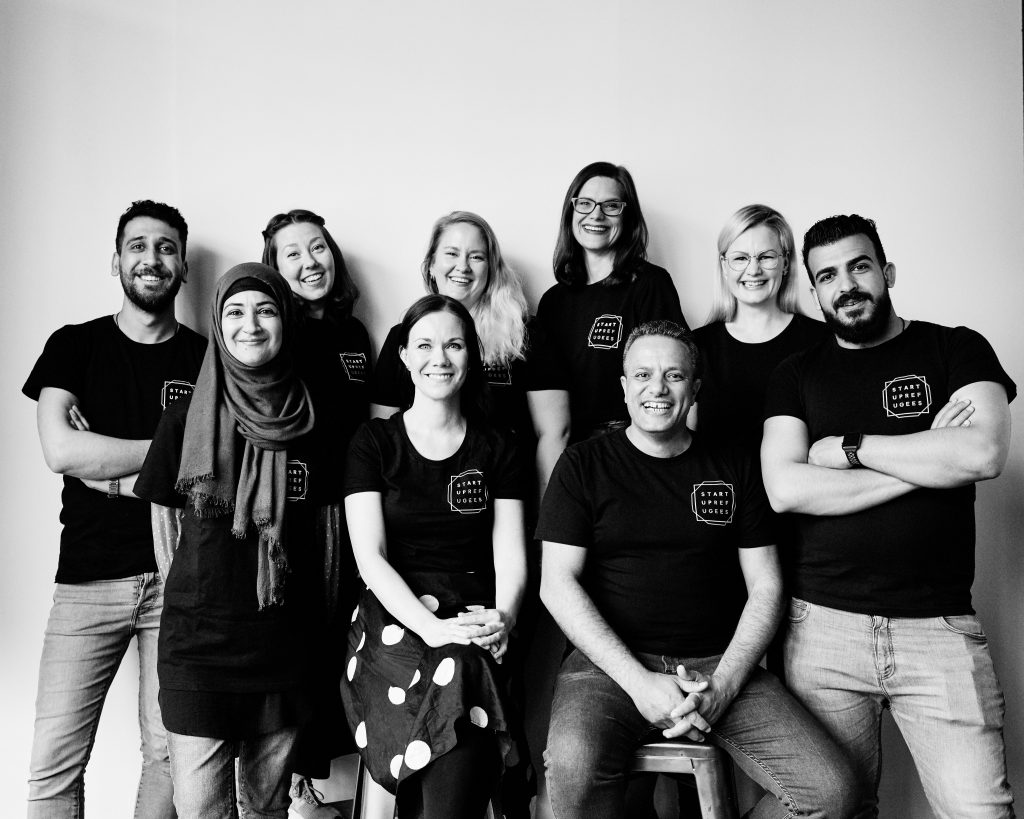 Viestintä- ja brändipäällikkö / Communication & Brand Manager
Etsimme luovaa ja rohkeaa viestintä- ja brändipäällikköä johtamaan Startup Refugeesin viestintää ja brändiä. Olet kokenut viestinnän ammattilainen, jolla on sekä kykyä vastata Startup Refugeesin viestinnän strategiasta että intoa tuottaa sisältöä sosiaaliseen mediaan ja muihin kanaviin. Viestintä on meillä Startup Refugeesilla tärkeässä roolissa ja suhtaudumme siihen suurella kunnianhimolla. On tärkeää, että olet aito ja positiivinen tyyppi, joka viihtyy kaikenlaisten ihmisten kanssa ja on kotonaan luovassa ja moninaisessa työyhteisössä.
Työssä menestyminen edellyttää seuraavaa asioita:
Vähintään 2 vuoden työkokemusta ja näyttöä erityisesti organisaation ulkoisen viestinnän kehittämisestä ja toteuttamisesta.

Kokemusta sisällön tuotannosta organisaation eri sosiaalisen median kanaville.

Erinomaista suomen ja englannin kielen taitoa ja sujuvaa kynää kirjalliseen viestintään.

Sitoutumista Startup Refugeesin

arvoihin.
Lisäksi arvostamme, jos sinulla on asiantuntemusta joistakin seuraavista asioista:
Markkinointi- ja kampanjointikokemus

Varainhankintaosaaminen

Yritysyhteistyö

Kokemus mediayhteistyöstä ja PR:stä

Kyky toimia erilaisissa verkostoissa ja erilaisten kumppaneiden parissa

Kokemusta nettisivujen suunnittelusta

Ymmärrystä ja kyky hyödyntää digitaalisia alustoja, kuten Trello, Hubspot, Mailchimp ja Slack

Valokuvaaminen, videoiden tuotanto tai graafinen suunnittelu

Muiden kielten, kuten arabian, farsin tai somalin osaaminen
Kanssamme pääset tekemään ensiluokkaista viestintää osana nopeasti kasvavaa, monikulttuurista- ja kielistä ja välillä aika hulluakin tiimiä. Tarjoamme mukavan toimiston Kallion sydämessä, mahdollisuuden joustavaan työaikaan, -paikkaan ja -tapaan, TESiä paremmat lomaehdot, erinomaisen Heltti Oy:n työterveyshuollon ja oivan tilaisuuden päästä johtamaan yhteiskunnallisesti merkittävän brändin viestintää.
Tehtävä on kokoaikainen ja työsuhde toistaiseksi voimassa oleva. Lähetä hakemuksesi palkkatoiveineen otsikolla "Viestintäpäällikkö" osoitteeseen [email protected] 18.1.2022 mennessä. Lisätietoja tehtävästä antaa talous- ja hallintojohtaja Anna Diallo 21.12.2021 klo 9-11 numerossa 044 240 7285 tai toiminnanjohtaja Elisa Vepsäläinen 11.1.2022 klo 13-15 numerossa 044 240 9985.
Startup Refugees tukee turvapaikanhakijoita, pakolaisia ja muita maahanmuuttajia työllistymisessä ja yrittäjyydessä. Startup Refugees -verkostoon kuuluu yli 1000 yritystä, julkisen sektorin toimijaa, yhteisöä, oppilaitosta ja yksilöä. Startup Refugeesin kautta on työllistynyt jo yli 1000 henkilöä, ja yrittäjyysohjelmamme on tukenut yli 280 vasta maahan muuttanutta yrittäjyydessä.
Startup Refugees is searching for an entrepreneurship trainer/coach to manage our business services in Oulu. 
As a Business Program Manager you will:
train and coach newcomers in Finland in entrepreneurship skills and give them business advice
develop entrepreneurship training contents and deliver trainings
organise entrepreneurship-related events with our teams in Oulu and Rovaniemi
create and develop networks with entrepreneurship-related organisations and immigrant communities in Northern Ostrobothnia
We are looking for a colleague who
has a business degree or work experience in entrepreneurship-related jobs or as an entrepreneur
is able to train and coach in English and in one other language, for example, Arabic, Farsi, Somali, Russian. Finnish is an asset.
is pedagogically and entrepreneurially minded
haș a great customer service attitude and enjoys advisory work
is ready to engage to the values of Startup Refugees.
We also appreciate existing good networks in the regional business ecosystem and immigrant communities in the Oulu area as well as experience and skills in organizing events.
You will be a part of a team that is passionate and talented. We are committed to our work and know the importance of being flexible. We work in a field that is constantly changing so we adapt, adjust and find solutions. Every day we meet challenges and make mistakes but also we experience great successes and learn new things. We take care of each other.
The position is located in Oulu, but partial remote work is possible. Work will contain evening and occasional weekend work and requires occasionally travelling in Northern Finland. The position is fixed-term starting as soon as possible (by 21.2. the latest) and lasting until 31.12.2022. Possibility to renew the contract depending on fundings.
Apply by 12.1.2022 by sending your CV and cover letter with salary request to [email protected] titled "Business program manager, Oulu". Please note that we start interviewing applicants already during the application time.
For more information, you may call Head of Business Program Kati Lappeteläinen on Mon 20.12. at 11-12 and Fri 7.1. at 13-14. Also, check our website to know more about our business services to newcomers. The work will start as soon as possible but by 21.2.2022 at the latest.
Startup Refugees supports asylum seekers, refugees, and immigrants in employment and entrepreneurship. There are more than 1000 members in the Startup Refugees network. These are companies, communities, organizations, educational institutions, and individuals who all believe in our common goal. We have supported over 1000 individuals to get a job and over 280 newcomers to develop their skills in entrepreneurship.