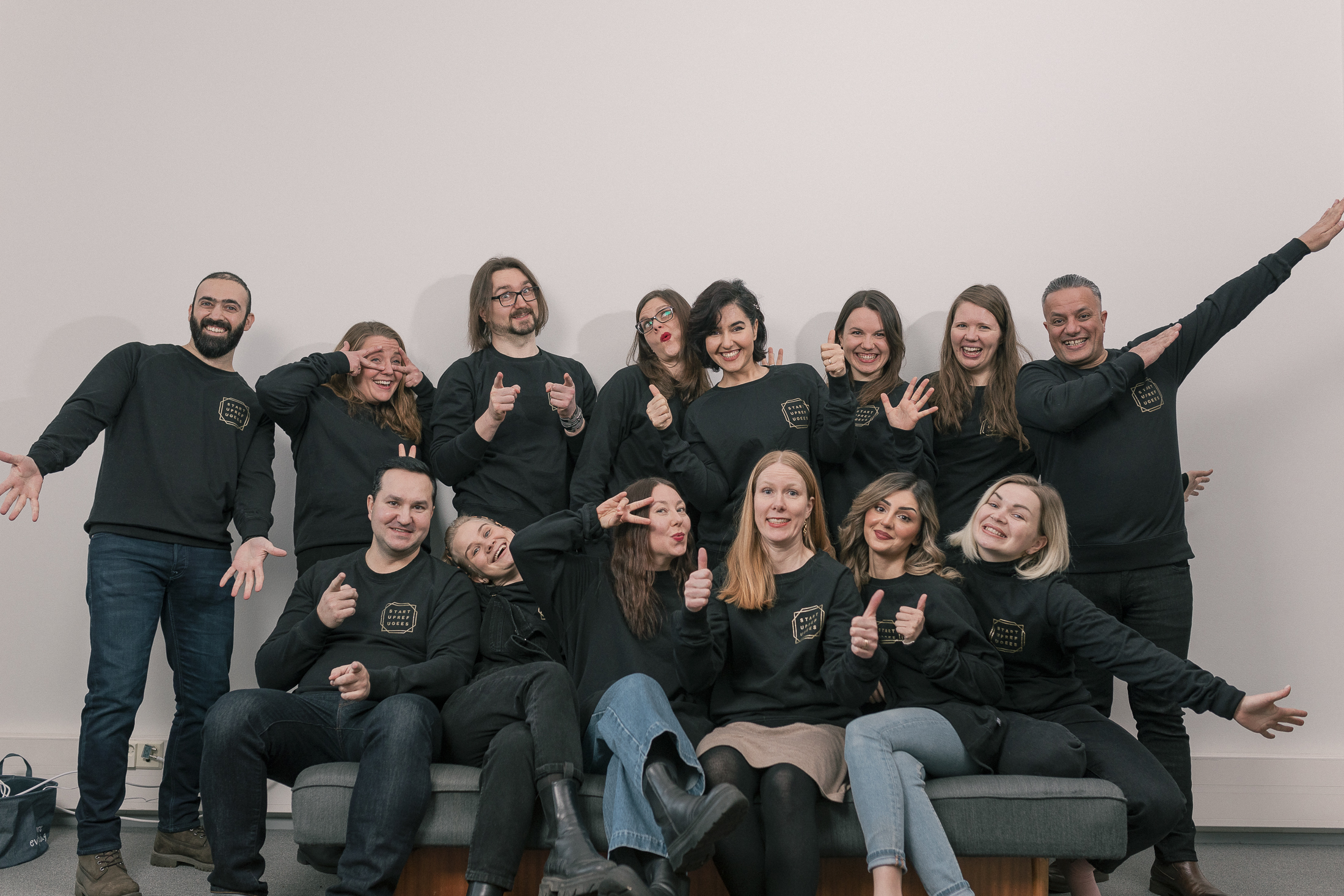 We are recruiting
Open position: Recruitment Manager
Full-time (37,5 hours per week)
Starting time – August
Startup Refugees is a social innovation founded in Finland which supports asylum seekers, refugees, and immigrants in employment, skills development and entrepreneurship. The Startup Refugees network includes around 2000 companies, public sector actors, communities, educational institutions, and individuals. Almost 1600 people have already been employed through Startup Refugees, our entrepreneurship program has supported almost 840 immigrants in entrepreneurship, and thousands of people have been trained in a number of skills ranging from fire safety to coding through or mentoring and skills development programs.
We are on the lookout for a Recruitment Manager for our team in the North, could it be you?
Ideally you have:
A true passion for our mission to support refugees, asylum seekers and immigrants towards employment, skills development and entrepreneurship.
Strong command of English and ideally Finnish too, other languages (like Ukrainian, Farsi, Kurdish or Arabic) are a plus.
Strong leadership and teamwork skills.
Knowledge in project management.
Good networks especially with local companies in the North.
An interest in communications and public relations.
An interest in sales.
Willingness to share our values of: No false promises, Hands on, Based on need, Everything is possible and Together.
Your responsibilities, daily work and future at Startup Refugees:
You will lead a team of five passionate and talented people and work alongside our Recruitment Manager in the South. Your day to day consists of leading your team in organizing recruitment events in the North of Finland, organizing Match-events where we collect the profiles of newcomers on to our digital platform Match made in Startup Refugees, staying in touch with existing partners and forming new partnerships in the North so that our services can reach more people.
We use the OKR-method to keep us on track and maintain a growth mentality. We appreciate that you have a strategic way of working and are open to learning new skills. We are growing our service sales and are excited if you share an interest in the business side of things as well.
In the coming years, you will have a crucial role in growing our employment program and strengthening the Startup Refugees brand in the North. We guarantee this position will give you plenty of opportunities to grow as a professional and a leader as well as make a real impact on the future of Finland!
 What we offer you:
A permanent employment contract.
A passionate, fun and diverse team that is committed to be a brave and safe workplace for all.
Extensive paid holidays + possibility to take Eid, Nowruz, Hanukkah or whatever your Celebration Day is off.
A laptop, work phone, healthcare from Heltti and flexible working hours.
The salary range for this role is 3200-3700 euros depending on the level of your experience and educational background.
Committed to Diversity, Equity and Inclusion:
Our team is made of people who have laughs that fill a concert hall! We strive to have the kind of culture where everyone is welcome to be exactly themselves and shine. We believe in learning by doing and get results by putting in the work. We are a committed group and know the importance of being flexible. We don't have all the answers but are willing to find them out. Every day we meet challenges and make mistakes but we also experience great successes, learn new things and take care of each other. We encourage applicants of diverse backgrounds and minority groups to apply. Sounds like you? Reach out!
How to apply?
Apply for the position by sending your CV, 1-3 references and a short application letter by 11 June 2023 with the subject "Recruitment Manager" to rekry@startuprefugees.com.  We will reach out to you after the application period has ended either by phone or e-mail.
If you want to have more information about the position, you may contact Head of Employment Program Maiju Mitrunen at +358 44 231 0804 on 6 June at 13-16, and  9 June at 10-12. 
Interviews will take place between 16 June – 22 June 2023. If you move on from the first interview you will receive an assignment (it will be short and sweet, don't worry!) and after that we will contact your references, have a talk with you and then make the decision.
We hope you can start in the beginning of August. Looking forward to talking to you soon!